THIS WEEK AT KNOLLWOOD
Sunday, August 15
Pre-service prayer starting at 9:15 a.m. in the Committee Room
Worship Service

at 10:00 a.m. PRE-REGISTRATION NO LONGER REQUIRED

Preaching today — Pastor Nathan Klahsen
Unable to worship with us? Watch online church center app

or

YouTube Channel
Virtual Lobby https://meet.google.com/mjz-digq-zur
After Service Fellowship

outside under the canopy
Community Group Monday, August 16 at 7:00 p.m.
Prayer Meeting Wednesday, August 18 at 10:00 a.m. Meet Pastor Nate outside under the canopy at the west doors. Bring a lawn chair if you have one.
UPCOMING EVENTS -- See below for more details
Family BBQ -- Sunday September 12
Women's Bible Study -- starting Tuesday September 21
THIS WEEK, PLEASE PRAY FOR ...
Our Staff — Nathan Klahsen, Lead Pastor
Our Deacons — Keith Albion, Chuck Selby, David Noble
Missionary of the Month — David and Cathy Smith
Neighbouring Churches — Stoney Creek Baptist Church — Lead Pastor Mark Farrow
Local Supported Agencies — Heritage College and Seminary
AFTER WORSHIP SERVICE FELLOWSHIP
Join us for After-Service Fellowship outside under the canopy. Cold drinks, pre-packaged cookies, and great conversation.
WOMEN'S BIBLE STUDY
Do you ever look at the Old Testament and wonder if the laws, that seem so burdensome, are still relevant today? Join us as we walk through the 10 commandments, and come to realize the truth of 1 John 5:3 which says "for this is the love of God, that we keep his commandments. And his commandments are not burdensome."
This will be a 10 week class beginning on Tuesday September 21. It will be offered at two different time slots, 9:30am for those women who can attend during the day, or at 7pm for those women who are available in the evenings. Led by Stephanie Klahsen.
Register here for the Morning Class Women's Bible Study -- Morning Class
Register here for the Evening Class Women's Bible Study -- Evening Class
Or phone the church at 519-455-2090

FALL KICK-OFF
Mark your calendar! We will be having a fall kick-off on September 12. BBQ with activities. All free. All fun.

HOMESTAY FAMILIES NEEDED
London Christian High is looking for caring Christian families to host international students for the coming school year. The student becomes a part of their homestay family as they become familiar with the Canadian culture. More importantly, the higher goal is to point them to Christ as they realize their full potential and pursue their post-secondary goals.
For more info, visit their website at http://londonchristianhigh.ca/what-we-do/international-student-information/ or contact Sherri at (226) 973-3030 and homestay@lchonline.ca.
CHILDREN'S MINISTRY — FROM THE GOSPEL PROJECT
Kids from Grades 1 to 5 will be dismissed before the sermon. We currently do not have a nursery. If you are interested in volunteering in the nursery, contact the church office@knollwood.ca or 519-455-2090.
FAMILY WORSHIP — FROM THE NEW CITY CATECHISM
Question 51: Of what advantage to us is Christ's ascension?
Answer: Christ physically ascended on our behalf, just as he came down to earth physically on our account, and he is now advocating for us in the presence of his Father, preparing a place for us, and also sends us his Spirit.
Children's Answer: Christ is now advocating for us in the presence of his Father and also sends us his Spirit.
Romans 8:34: Who is to condemn? Christ Jesus is the one who died—more than that, who was raised—who is at the right hand of God, who indeed is interceding for us.
WORSHIP THROUGH GIVING
Thank you so much for your faithful giving!
When worshiping in person, you can place your offering on the plate at the back of the auditorium.
Ways of giving while worshiping from home:
Go to https://www.knollwood.ca/pages/giving to give online via debit card or credit card.
Put your offering envelope in the mailbox at the church's east doors
If you are still planning on giving to the 80th Anniversary Fundraising Campaign, please do so soon. The campaign closes on August 15. We will be announcing the final amount raised on August 22.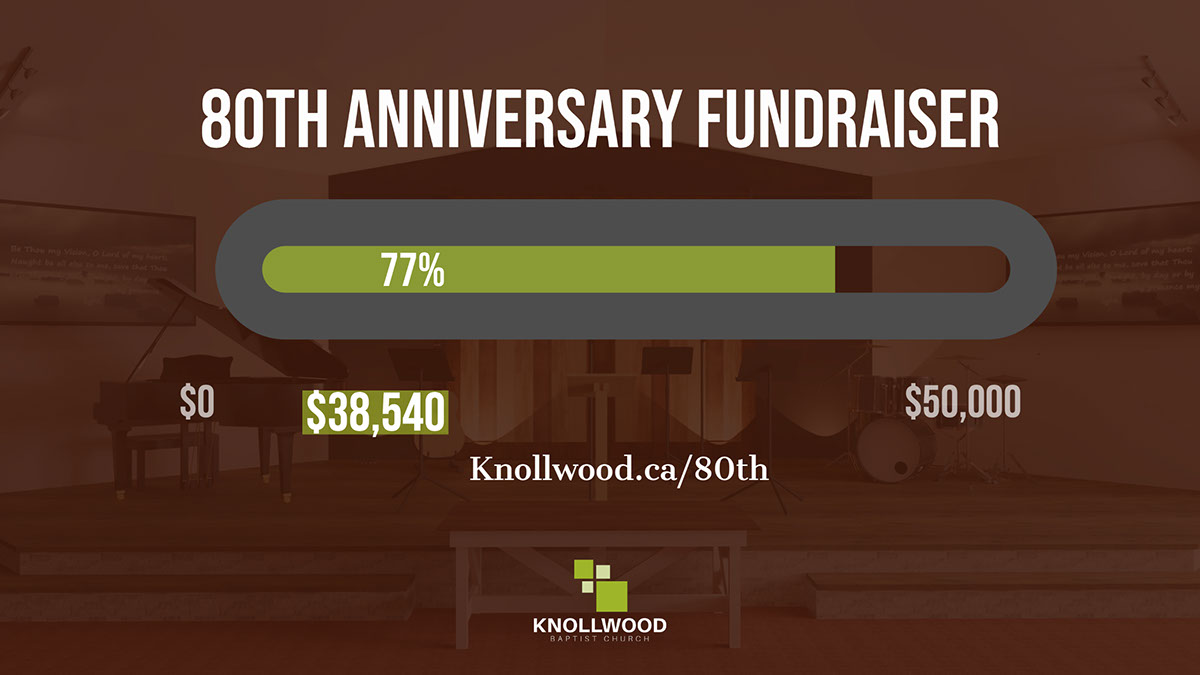 REACHING OUT TO OUR KNOLLWOOD FAMILY
Need someone's address or phone number? Here is the link to our online directory Paper copies of the directory are available on request.
If you need anything -- prayer, help, groceries -- please contact the church office at 519-455-2090 or send an email to Beth at office@knollwood.ca We would love to help you!