As of August 22, we have closed our campaign to raise $50,000 for our auditorium upgrades. We were doing this to honour God. He has blessed us with a great facility that allows us to gather, and we want to continue to honour him with what he has given us. We were also seeking to better facilitate the gathering of the church. We would do this as we upgrade our sound needs and video needs.
We were seeking to do a two-stage renovation of our auditorium. The first stage was the A/V booth, along with the live-streaming equipment and soundboard. God blessed us with this through your charitable donations and the generous time of people like Mike Clarkson, David DeHaan, Jonathan Bell, and Matt Watts. Because of this, we have been able to stream our services as we seek to proclaim the gospel to those unable to gather with us and the world. We originally had a budget of $30,000 for stage one, but we only spent around $22,500. I am very thankful for those who helped in this area, as it has been a great blessing to us as a church, especially during this past almost 2 years. I praise God for blessing us with this ability as we continued to share God's good news during the lockdowns. God's Word continued to go forth.
As we continued to raise money, we hoped to start stage two after finishing stage one. Stage two was to renovate our auditorium. I'm really thankful for a team of people who have been walking together as we redesign the auditorium. Our team was me, Pastor Matt, April Noble, and Alyssa Freele, with many more people helping us bring all these new things together. Again, we seek to glorify God as we seek to spruce up the room we use to gather together.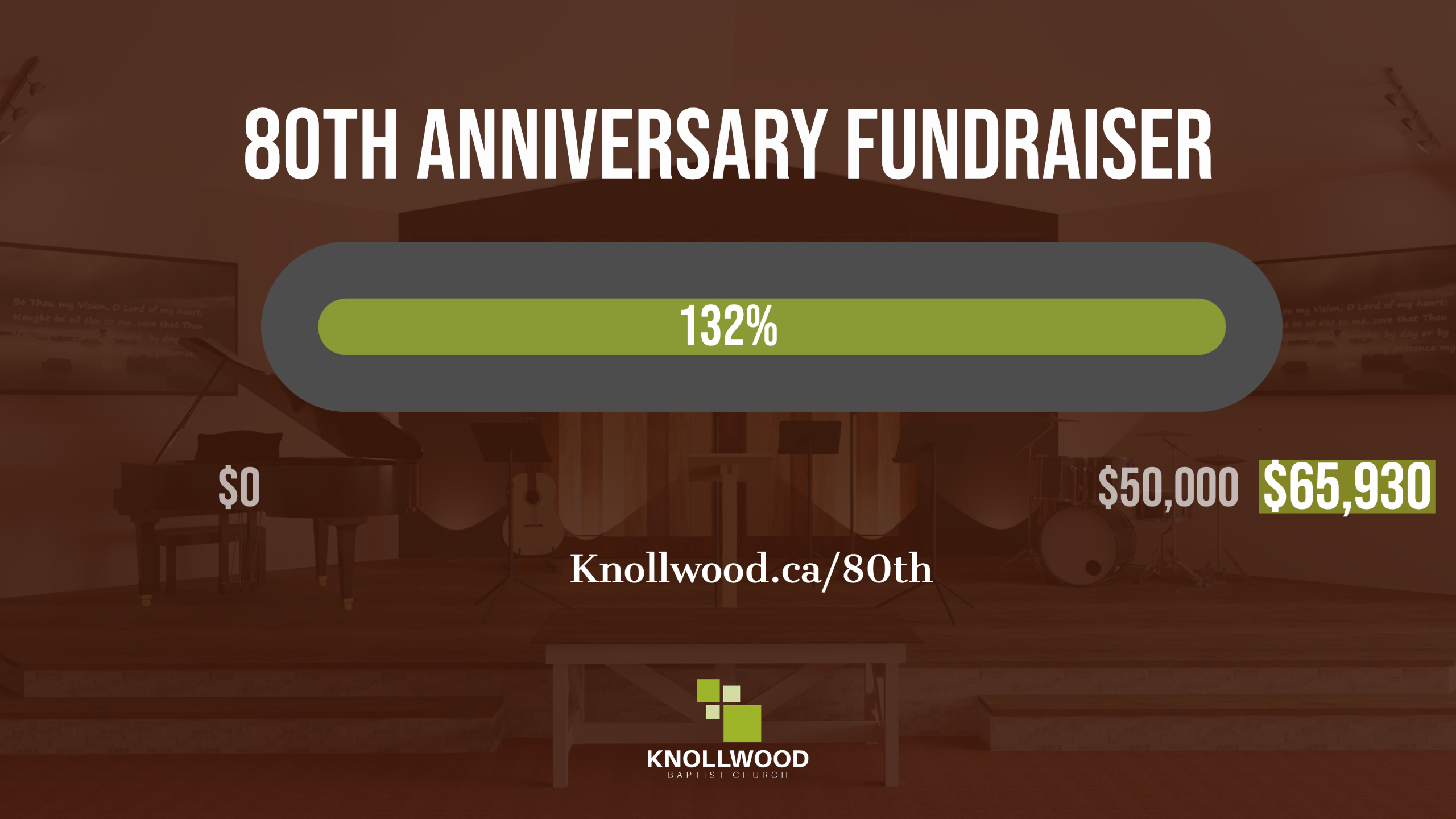 By God's amazing grace we have raised $65,930. God has blessed us so much as a church, and I am personally blown away by God's goodness to us. This amount includes a generous donation towards our auditorium renovations from a like-minded church in London of $25,000. Two things come to mind: I am amazed by your generosity and how God has spurred you on to give above and beyond. Our finances have been sound throughout this time, and we have also been raising money for these auditorium renovations. I am also amazed by the generosity of brothers and sisters here in London as we seek to be partners in the gospel. We aren't alone. Others cheer us on, pray for us, and encourage us as we seek to be disciples who make disciples of Jesus Christ.
That means that we are left with around $43,430 for the stage 2 auditorium renovations. For stage two, we have shared through online sources, members' meetings, our printed newsletter, pictures of what we are hoping our new stage design will be. These funds will allow us to install new lighting throughout the auditorium and Heritage Room (overflow room), replace the carpet and install new projectors and screens. Our stage will also be refreshed, including stage lighting and the baptismal. In addition, the front wall will get a fresh coat of paint with barn doors open and shut when we have baptisms. We are also adding new sound equipment and a larger confidence monitor for our music teams. We will also be continuing to add new signage to help visitors find their way around our building.
I can't express this enough: God is good, And he is good all the time, In all circumstances. This has been a challenging season for us individually and corporately. But how about we bask in the wonder of God's goodness. During this worldwide shutdown, we have had baptisms, brought in new members, our finances have been sound, and God has provided in more than one way. I also think about how other churches in this great city are cheering us on, praying for us, encouraging us, and partnering with us. As hard as this season has been, God is good. Can you and I worship our awesome God together? Can we praise God for what he has done and is doing? Let us trust him together as we step forward in faith. He has shown us that we can trust him in our 80 years; let's trust him for the next 80 as we seek to be, together, disciples who make disciples of Jesus Christ.